Join our complete YouTube marketing course starting from basics to advance level. with this course you can become a youtuber and earn money
Complete YouTube Marketing Course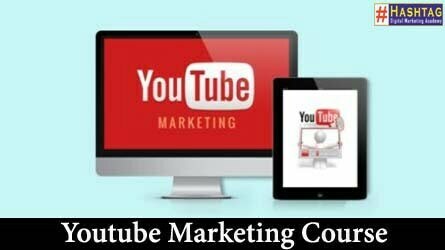 Duration – 1 Months ( 30 Days )

95% Practical + 5% Theory
Classes – Monday to Saturday

90 Mins of Training Every Day
Course Fees – Rs 9999/-

Installment Option Available
Offer – Pay Fee only 8999/-

Advance Payment
Youtube Marketing Course Details
YouTube is the world's second-largest search engine and has become a major platform for businesses to promote their products and services through video content. Hashtag Academy is the best institute that offer you courses specifically focused on YouTube marketing. Here's what you can expect to learn in our course:
Content creation: In our YouTube marketing course we will cover the basics of creating engaging video content for the platform. This includes topics such as identifying your target audience, developing a content strategy, and optimizing videos for search.

Video optimization: YouTube has its own search algorithm that ranks videos based on factors such as keywords, video quality, and engagement metrics. In our YouTube marketing course we will teach you how to optimize your videos to rank higher in search results and attract more views.

YouTube advertising: The will cover creating video campaigns for Youtube. You will learn how to create and run effective YouTube ads, including targeting options, bidding strategies, and ad formats.

Analytics and tracking: YouTube provides a wealth of data and insights on video performance, and our Youtube marketing course will teach you how to use tools such as YouTube Analytics to track your metrics and make data-driven decisions.

Monetization: Our course will also cover how to monetize your channel and earn revenue from ad placements, sponsored content, and other sources.
The benefits include:
Improved video quality: By learning the best practices for creating and optimizing YouTube videos, you can improve the quality of your content and attract more viewers.

Increased visibility: By optimizing your videos for search, you can increase your visibility on the platform and attract more organic traffic.

Better engagement: By understanding your audience and creating content that resonates with them, you can improve engagement and build a loyal following on YouTube.

Monetization opportunities: By learning how to monetize your channel, you can turn your YouTube content into a viable source of income.
The future prospects for YouTube marketing are promising, as more and more businesses turn to video content as a way to reach their target audience. As YouTube continues to grow in popularity, there will be an increasing demand for professionals with the skills and knowledge to create and promote effective video content. By completing a YouTube marketing course, you can position yourself as an expert in this field and take advantage of the opportunities that lie ahead.
After This Course You Will
What Our Students Have to Say
"Hashtag Academy is the best digital marketing institute in Dehradun. Hemant sir is very highly skilled trainer and learning from him is a great experience."
" Great Experience and Great learning method with detail knowledge course at a pocket friendly price. "
"It is very good digital marketing academy with best facility and Hemant sir is such a sweet ,nice and knowledgeable person. I recommend you all to join hashtag academy for best digital marketing course."
" Best Institute for Digital Marketing, enviroment of this Institute is very friendly .If you want to learn Digital Marketing I will recommend you to join Hastag academy .It is a great experience to learn in Hastag academy . "