CCC Computer Course in Dehradun
Get Qualified for Govt Jobs, Govt Samvida Jobs or Private jobs.  Learn fundamentals of computer technology, prepare yourself to appear for govt exams and also get govt recognized certification in computers through our CCC computer course in dehradun.
CCC Computer Course in Dehradun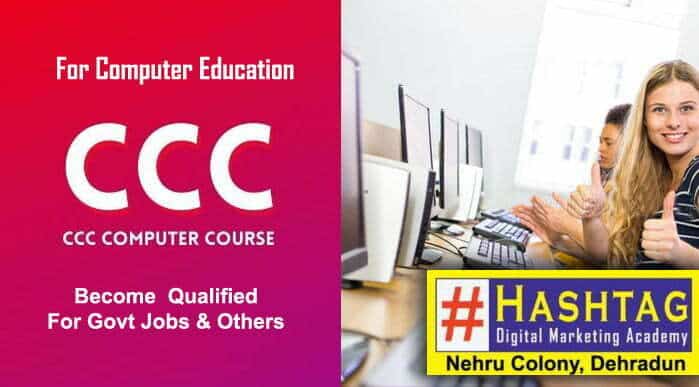 Duration – 6 Months Total Course

50% Practical + 50% Theory
Classes – 3 Days a Week

120 Mins of Training Every Day
Course Fee only 2000/- per month

Advance Payment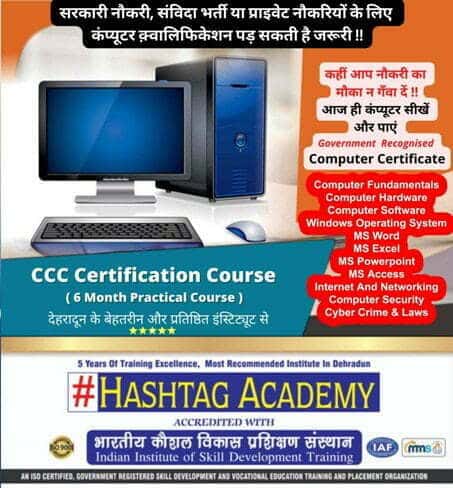 CCC Computer course in dehradun details
This course is a Computer Certification Course (CCC) . To qualify for govt or private jobs learn concepts, fundamentals, word, excel, PowerPoint and more get certificate. The aim of this CCC Computer course in dehradun is to provide basic level computer Literacy to anyone who is interested irrespective of educational qualification or job profile.
The skills that you will attain will make you eligible for jobs in various functions at companies, government departments, NGOs, Agencies and more. 
This CCC Computer course in dehradun is a very good course for students, housewives, small business persons and anyone looking for early jobs in the growing field of IT and computers.
After doing this course you can further go for government recognized certification exams like NIELIT Exams which will be boost further in your career.
After this course you become eligible to apply for jobs of 
Computer Operators
Data Entry Operators
Computer Teachers
Receptionists
Lab Attendant
Computer Assistant
Customer Care Executive
And many More….
CCC Computer Course in Dehradun - Syllabus