Stock Market Course in Dehradun
Join our Stock market course in dehradun, the best and easy way to make money online from home can be investing in shares and options.
Stock Market Course in Dehradun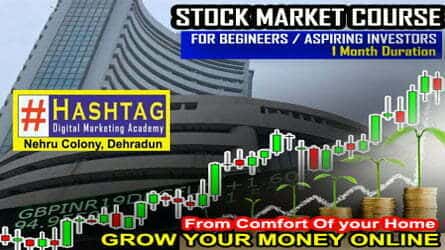 Duration – 1 Months ( 30 Days )
50% Practical + 50% Theory
Classes – Monday to Saturday

1 Hr of Training Every Day
Course Fee only 11000/-

Advance Payment
Stock market course details
If you have patience , knowledge , risk taking ability and a good understanding of economy and market dynamics than share market is the best place for you to make money. 

If you are not having the above qualities then you should not worry we are here to help you for this opportunity. Hashtag Academy Dehradun is one of best institute providing you stock market course in dehradun. 

Through this Share market course in dehradun we bring to you an opportunity to grow and make money online. 

This Share market course is specially developed for the beginners and Investors who want to enter into stock trading business to make money by trading in stocks on BSE or NSE of India.
Those who want to learn and understand what is share market, how it works, how to invest in share market, futures and options market, what are the dos and donts for investors and traders in stock market, what rules they have to follow while trading in stock market, how to trade online etc.
Stock Market Course in Dehradun - Course Content
After This Stock Market Course In Dehradun You Will